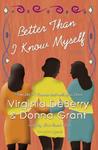 Better Than I Know Myself
by
Virginia DeBerry
My rating:
4 of 5 stars
Did you ever have a friend who was more like family? For Regina Foster, Jewel Prescott, and Carmen Webb this is exactly true. Better Than I Know Myself starts in the late 70's when the girls are seniors in high school and making the decision on where to go to college. Three different girls from three very different backgrounds. Jewel, a former child star. Regina, the daughter of two college educated parents and little sister to older brothers who had all attended and graduated from college. And Carmen whose parents had left her at a young age.
The story progresses through their meeting in New York at Barnard and continues through their graduation. Regina and Jewel were already roommates when they met Carmen at the university library. They all got stuck in an elevator together and as they say, "The rest is history." They lived together through the early 80's as they grew into women and started to become independent.
The book covers twenty years of friendship and sisterhood and all the trials and tribulations that entails.
This book made me laugh out loud and brought a tear or two to my eyes. It also made me want to get together with my closest girlfriends. This is a book that you have to read until the end.
I listened to this book through the iPod and
Overdrive
. The audio was read by Lisa Renee Pitts.
View all my reviews