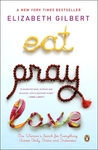 Eat, Pray, Love
by
Elizabeth Gilbert
My rating:
4 of 5 stars
Eat, Pray, Love is the story of one woman's journey through Italy
, India
, and Indonesia
in a quest to find peace, harmony, and to become a better person. She takes a year to make this journey. Starting in Italy to eat amazing food and to learn to speak Italian. In India she visited an ashram and met her guru. In Bali, Indonesia, she is returning to see Katut, a medicine man she had met before an had told her that she would return to Bali and teach him English.
Elizabeth Gilbert is one brave lady. First, to be able to dedicate a year of your life to traveling the world. Making stops in places where you don't know anyone or even speak the language.. It sounds like an amazing time.
I had seen the movie when it was first released, but didn't know there was a book as well. I try to read the book before the movie as much as possible. This has been on my library wish list for a while. When it finally became available I couldn't wait to listen to it. Having it being read by the author herself made it that much more enjoyable. It made me feel as though I was there with her. Tasting food in Italy, doing hours of meditation in India, and even more in Indonesia.
View all my reviews