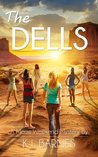 The Dells
by
K.L. Barnes
My rating:
4 of 5 stars
Who doesn't love a weekend getaway with the girls? 8 friends from Arizona, spend one weekend a year together for a getaway. They leave the husbands and kids and worries behind and enjoy their time, eating, drinking and being very merry. But, this weekend is a little different. When one of the ladies, meets a handsome stranger their weekend is about to take a turn for the worse.
This was a very enjoyable book to read. The only drawback was that there were too many characters. 8 different women and I could probably only remember 2-3 names. This made for not very good character development. It could probably take 1/4 of the book to describe these ladies in a way where you felt you knew them personally. Add on their husbands(6) and the police force that helps them, and that's a lot of people to worry about.
The thing I did like about this story was about how resilient these women are. They let nothing or no one stand in their way of doing what they want and how they want. No matter if it means interfering in a police investigation or dividing rooms for those who sleep and those who don't.
There were a few grammatical errors in the book. A name not being capitalized and wrong usage of words(here instead of hear), but overall this book held my attention and I wanted to know what was going to happen next. It would have been just as good or maybe better if the focus was on just 4 friends instead of 8, but still a book I will recommend to others.
**I received a copy of this book in exchange for an honest review.**
View all my reviews