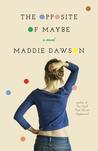 The Opposite of Maybe
by
Maddie Dawson
My rating:
3 of 5 stars
Rosie and Jonathan have been together for 15 years. They never married or had kids even though everyone around them were. They were content with their lives the way they were, or at least that is what Rosie thought. One morning, when birth control goes out the window all because of a strange name on the caller ID, Rosie is about to find out exactly who and what it is she wants in life.
This story was really very interesting. Jonathan doesn't seem like the kind of guy that any woman would want to date. He is all about himself and doesn't really seem to notice or care what is going on around him. He used to be an artist until he wasn't anymore and then he started to collect teacups. When he gets the opportunity to be a part of a museum for the precious teacups, he jumps at the chance. Rosie isn't quite as eager as he is and he promises marriage as a way to get her on board.
Rosie has a lot going on in her life, but then Jonathan shows his true colors just days before the wedding and it makes quite an impact. Finally, Rosie decides to do something that is going to be best for herself instead of going along with what Jonathan wants. In making this decision to stay and take care of her grandmother and settle things, she discovers something amazing about her life.
Too many women in this world put their lives on hold to do what is best for the family. Following their military spouse all around the world, giving up a career for children, leaving behind family to pursue a dream. If we don't we are labeled as unsupportive and when we do we are also given grief about leaving our own wishes and desires to support someone else. You're damned if you do and damned if you don't.
Rosie learns a lot about her life through this book and is a testament to others about doing what is best for yourself.
I received this book for free from Blogging for Books for this review.
View all my reviews