It's three days into the official start of summer. My inbox has been filled with the books that I have to read this summer. So I've taken what they have given me and made my own list of books I hope to get the chance to read(probably not all this summer though).
Here is what is on my list:
An Untamed State
by Roxane Gay
Mireille Duval Jameson is living a fairy tale. The strong-willed youngest daughter of one of Haiti's richest sons, she has an adoring husband, a precocious infant son, by all appearances a perfect life. The fairy tale ends one day when Mireille is kidnapped in broad daylight by a gang of heavily armed men, in front of her father's Port au Prince estate. Held captive by a man who calls himself The Commander, Mireille waits for her father to pay her ransom. As it becomes clear her father intends to resist the kidnappers, Mireille must endure the torments of a man who resents everything she represents.
An Untamed State
is a novel of privilege in the face of crushing poverty, and of the lawless anger that corrupt governments produce. It is the story of a willful woman attempting to find her way back to the person she once was, and of how redemption is found in the most unexpected of places.
An Untamed State
establishes Roxane Gay as a writer of prodigious, arresting talent.
China Dolls
by Lisa See
In 1938, Ruby, Helen and Grace, three girls from very different backgrounds, find themselves competing at the same audition for showgirl roles at San Francisco's exclusive "Oriental" nightclub, the Forbidden City. Grace, an American-born Chinese girl has fled the Midwest and an abusive father. Helen is from a Chinese family who have deep roots in San Francisco's Chinatown. And, as both her friends know, Ruby is Japanese passing as Chinese. At times their differences are pronounced, but the girls grow to depend on one another in order to fulfill their individual dreams. Then, everything changes in a heartbeat with the Japanese attack on Pearl Harbor. Suddenly the government is sending innocent Japanese to internment camps under suspicion, and Ruby is one of them. But which of her friends betrayed her?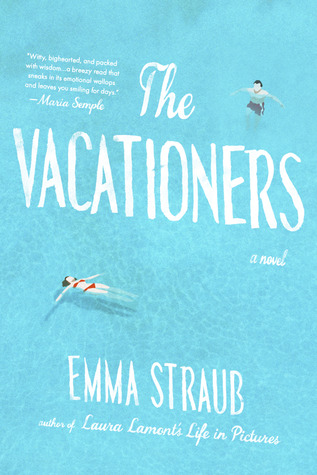 The Vacationers by Emma Straub
For the Posts, a two-week trip to the Balearic island of Mallorca with their extended family and friends is a celebration: Franny and Jim are observing their thirty-fifth wedding anniversary, and their daughter, Sylvia, has graduated from high school. The sunlit island, its mountains and beaches, its tapas and tennis courts, also promise an escape from the tensions simmering at home in Manhattan. But all does not go according to plan: over the course of the vacation, secrets come to light, old and new humiliations are experienced, childhood rivalries resurface, and ancient wounds are exacerbated.
This is a story of the sides of ourselves that we choose to show and those we try to conceal, of the ways we tear each other down and build each other up again, and the bonds that ultimately hold us together. With wry humor and tremendous heart, Emma Straub delivers a richly satisfying story of a family in the midst of a maelstrom of change, emerging irrevocably altered yet whole.
I Am Having So Much Fun Here Without You
by Courtney Maum
Despite the success of his first solo show in Paris and the support of his brilliant French wife and young daughter, thirty-four-year-old British artist Richard Haddon is too busy mourning the loss of his American mistress to a famous cutlery designer to appreciate his fortune.
But after Richard discovers that a painting he originally made for his wife, Anne -when they were first married and deeply in love-has sold, it shocks him back to reality and he resolves to reinvest wholeheartedly in his family life . . . just in time for his wife to learn the extent of his affair. Rudderless and remorseful, Richard embarks on a series of misguided attempts to win Anne back while focusing his creative energy on a provocative art piece to prove that he's still the man she once loved.
Skillfully balancing biting wit with a deep emotional undercurrent, debut novelist Courtney Maum has created the perfect portrait of an imperfect family-and a heartfelt exploration of marriage, love, and fidelity.
Lay It On My Heart
by Angela Pneuman
This piercing, sly debut novel tells the story of one unforgettable month in a Kentucky girl's thirteenth year. Charmaine Peake's prophet father has been committed to a psychiatric institution. Her mother, forced to rent out their house and move them down to a trailer on the river, won't stop telling Charmaine things she doesn't want to hear-from marital details and middle-aged doubts to uncomfortable preoccupations with Charmaine's changing body. A sanctimonious missionary kid has taken over her real bedroom, where Charmaine discovers his stash of strange and questionable photos. She is being tested at every turn: Where will her choices take her? And her faith? She tries to pray ceaselessly as her father taught, but with so much upheaval, even God seems to have changed.
The Mockingbird Next Door: Life With Harper Lee
by Marja Mills
To Kill a Mockingbird
by Harper Lee is one of the best loved novels of the twentieth century. But for the last fifty years, the novel's celebrated author, Harper Lee, has said almost nothing on the record. Journalists have trekked to her hometown of Monroeville, Alabama, where Harper Lee, known to her friends as Nelle, has lived with her sister, Alice, for decades, trying and failing to get an interview with the author. But in 2001, the Lee sisters opened their door to
Chicago Tribune
journalist Marja Mills. It was the beginning of a long conversation—and a great friendship.
In 2004, with the Lees' blessing, Mills moved into the house next door to the sisters. She spent the next eighteen months there, sharing coffee at McDonalds and trips to the Laundromat with Nelle, feeding the ducks and going out for catfish supper with the sisters, and exploring all over lower Alabama with the Lees' inner circle of friends.
Nelle shared her love of history, literature, and the Southern way of life with Mills, as well as her keen sense of how journalism should be practiced. As the sisters decided to let Mills tell their story, Nelle helped make sure she was getting the story—and the South—right. Alice, the keeper of the Lee family history, shared the stories of their family.
The Mockingbird Next Door
is the story of Mills's friendship with the Lee sisters. It is a testament to the great intelligence, sharp wit, and tremendous storytelling power of these two women, especially that of Nelle.
Mills was given a rare opportunity to know Nelle Harper Lee, to be part of the Lees' life in Alabama, and to hear them reflect on their upbringing, their corner of the Deep South, how
To Kill a Mockingbird
affected their lives, and why Nelle Harper Lee chose to never write another novel.
Big Little Lies
by Liane Moriarty
A murder… . . . a tragic accident… . . . or just parents behaving badly?
What's indisputable is that someone is dead. But who did what?
Big Little Lies
follows three women, each at a crossroads: Madeline is a force to be reckoned with. She's funny and biting, passionate, she remembers everything and forgives no one. Her ex-husband and his yogi new wife have moved into her beloved beachside community, and their daughter is in the same kindergarten class as Madeline's youngest (
how
is this possible?). And to top it all off, Madeline's teenage daughter seems to be choosing Madeline's ex-husband over her. (How. Is. This. Possible?).
Celeste is the kind of beautiful woman who makes the world stop and stare. While she may seem a bit flustered at times, who wouldn't be, with those rambunctious twin boys? Now that the boys are starting school, Celeste and her husband look set to become the king and queen of the school parent body. But royalty often comes at a price, and Celeste is grappling with how much more she is willing to pay. New to town, single mom Jane is so young that another mother mistakes her for the nanny. Jane is sad beyond her years and harbors secret doubts about her son. But why? While Madeline and Celeste soon take Jane under their wing, none of them realizes how the arrival of Jane and her inscrutable little boy will affect them all.
Big Little Lies
is a brilliant take on ex-husbands and second wives, mothers and daughters, schoolyard scandal, and the dangerous little lies we tell ourselves just to survive.
Close Your Eyes, Hold Hands
by Chris Bohjalian
Close Your Eyes, Hold Hands
is the story of Emily Shepard, a homeless girl living in an igloo made of garbage bags in Burlington. Nearly a year ago, a power plant in the Northeast Kingdom of Vermont had a meltdown, and both of Emily's parents were killed. Devastatingly, her father was in charge of the plant, and the meltdown may have been his fault—was he drunk when it happened? Thousands of people are forced to leave their homes in the Kingdom; rivers and forests are destroyed; and Emily feels certain that as the daughter of the most hated man in America, she is in danger. So instead of following the social workers and her classmates after the meltdown, Emily takes off on her own for Burlington, where she survives by stealing, sleeping on the floor of a drug dealer's house, inventing a new identity for herself, and befriending a young homeless kid named Cameron. But Emily can't outrun her past, can't escape her grief, can't hide forever-and so she comes up with the only plan that she can.
What is on YOUR summer reading list?